What's up, my name is Alex Gillespie, or some of you may know me as Lucidkiwi from New Zealand.
What's up, my name is Alex Gillespie, or some of you may know me as Lucidkiwi from New Zealand. Firstly I want to take this opportunity to say thank you for being here & secondly, to share a little bit about my story and how Lucidkiwi came to be.
I grew up in the picturesque Central North Island town of Lake Taupo, born into what most people call paradise. A beautiful lake surrounded by vast native rainforest and mountain ranges, right in the heart of New Zealand.
Spending time immersed in nature, discovering new places, and exploring was a massive part of my life. I always wanted to see what was over the next hill, or around the next corner.
For most teenagers, myself included being in a classroom wasn't my idea of having fun. This was only heightened by my personality and desire to be 'out there doing it'.
After high school, I decided to pursue a career in carpentry and become a 'kiwi tradie' like everyone else in my family.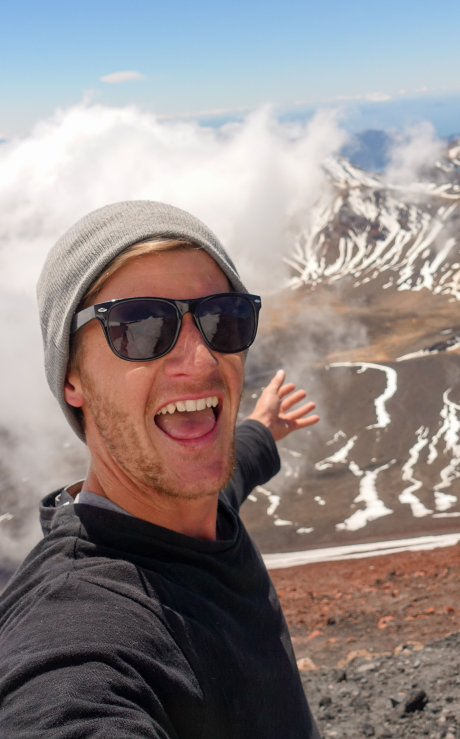 It was perfect…well, so it seemed… I began going through the motions of a 4-year apprenticeship. I loved it, earning good money for my age. I could afford to do whatever I wanted. Within a few years, I was fully qualified.
My role as a foreman for a construction company was paying more than I ever could have imagined enabling me to have all the material luxuries and lifestyle a young 20-year-old could want.
All my friends were either traveling the world or having the time of their life at university. Yet here I was stuck in the same town doing the same thing week in and week out…something had to give. I decided one day that I was going to pack my life into a backpack and start traveling the world. It felt like a weight had been lifted off my shoulders, I booked a ticket and was set to leave within a few months.
Pure excitement had set in, although it was only temporary. I realized packing my life into a backpack and exploring the world was only going to be a long but temporary fix. Eventually, I would have to get back into the very cycle I was trying to escape. I thought there had to be a better way, there must be more to life.
I began turning my attention to the Travel Blogging & Social Media scene where thousands of people just like me travelling the globe full time.
I starting digging a bit deeper, reaching out and networking with Digital Nomads, entrepreneurs and creators who were all successful in their own right. They were no different to me some of them even had the same background.
Armed with a dream, zero experience and a strong desire to travel the world I began creating this exact website and related social media platforms. I boarded a plane into the unknown and have not looked back since.
Landing in a completely foreign country for the first time was something I will never forget. The complete unknown.
Backpacking through one of the most changeling countries in the world meeting people from every corner of the globe. I was hooked. Then it began, documenting my adventures as I began to experience the diverse and cultural landscapes that our planet has to offer.
How I Became a Full-Time Traveler
From December 2015 to March 2020, I traveled full-time. I have not only traveled but lived in some of the most epic places around the globe. I love to travel fast, but I also love to balance it out, set up, and live in specific locations for months on end.Not only have I come from zero experience in this industry to successfully generate and sustain an online-based income, but I have also had the privilege of collaborating and working with businesses from all over the world. The power of the internet can make your wildest dreams come true.
Whether through Lucidkiwi or the other business I have created, Stitch Media, I can live and work independently around the globe doing what I love daily.
I will continue to push forward and grow with everything Lucidkiwi was built on. Lucidkiwi is packed full of backpacking destinations, travel tips and resources to kick-start your own journey. I want everyone to have that feeling of freedom.
If you are interested in collaborating or working with me directly in any way. Discover more in-depth information here at my Collab page.
Lastly, the world is vast, yet so small at the same time. Don't be afraid to reach out and connect with me through this blog or on any of my Social Media Platforms. Email – hello@lucidkiwi.com
Check out my recent travels as I explore off the beaten path locations, culturally rich destinations and tourist hot spots.
Lucidkiwi has worked with individuals, brands and companies all around the world. Building relationships, establishing briefs and carrying out creative and marketing campaigns have been a massive success for Lucidkiwi and the partnering company.
Lucidkiwi primarily collaborates with companies that are aligned in the travel and tourism industry and various lifestyle brands. Lucidkiwi has kept its authenticity by only collaborating with anyone who fits the Lucidkiwi 'vibe'.
Building A Business Or Personal Brand?
Stitch Media has worked with over 100 brands and businesses, developing and implementing marketing and creative campaigns. Whether you are building a personal brand or a global brand we have the expertise to assist you.
What My Clients Are Saying
Lucidkiwi has worked with individuals, brands and companies around the world. Building relationships and establishing specific briefs before carrying out the creative or marketing campaigns has been a huge success for both Lucidkiwi and the partnering company.
PR & Social Media , AirAsia
Alex's friendly and positive personality, passion for creating content, creativity, and easy-going nature also contributed to a successful collaboration. Without reservation, I recommend Alex to any organisation implementing an influencer marketing program.
Associate Director Hospitality - National Facilities
"Alex from Stitch Media has done an incredible job helping Massey Venues build a new external brand within Massey University from the ground up…. He has never failed to deliver on our requests and expectations. Stitch Media has been integral in bringing our digital strategy to life."

"It was a great pleasure to work with Alex, his passion for travel, the search for cultural differences, respect and embracing diversity lead to a wonderful partnership… We are thankful for the great results of all the work that Alex provided us."
Lets Start Something Exciting Together
`Enter your information below with a little message and I will be in touch – Alternativley my email is:
hello@lucidkiwi.com